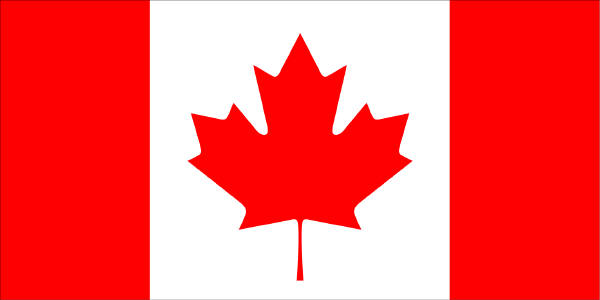 TWICE AS FAR
SWISSAIR 111
CRASH INVESTIGATION
- ILLEGAL ACTIONS -
STILL MORE BAD APPLES
TANNER'S ORDER TO RETURN TO DUTY
TANNER'S ORDER TO RETURN TO DUTY
This document was issued by Tanner.
It officially orders me out of the hangar,
and back to the Halifax Ident Section.
The title of this order reflects Tanner's attitude about the Swissair file.
Tanner made the comment to me that
'You have been sitting on your ass for the past three years, and it's time to get back to work.'
He appeared to have no interest in the file or its potential outcome
and he gave the impression that the whole issue was simply a burden to him.
He treated me as though I had done something terribly wrong,
and as though I was a recruit in training who needed discipline.
In truth, he was merely following the plan to get me out of the hangar,
and off the file.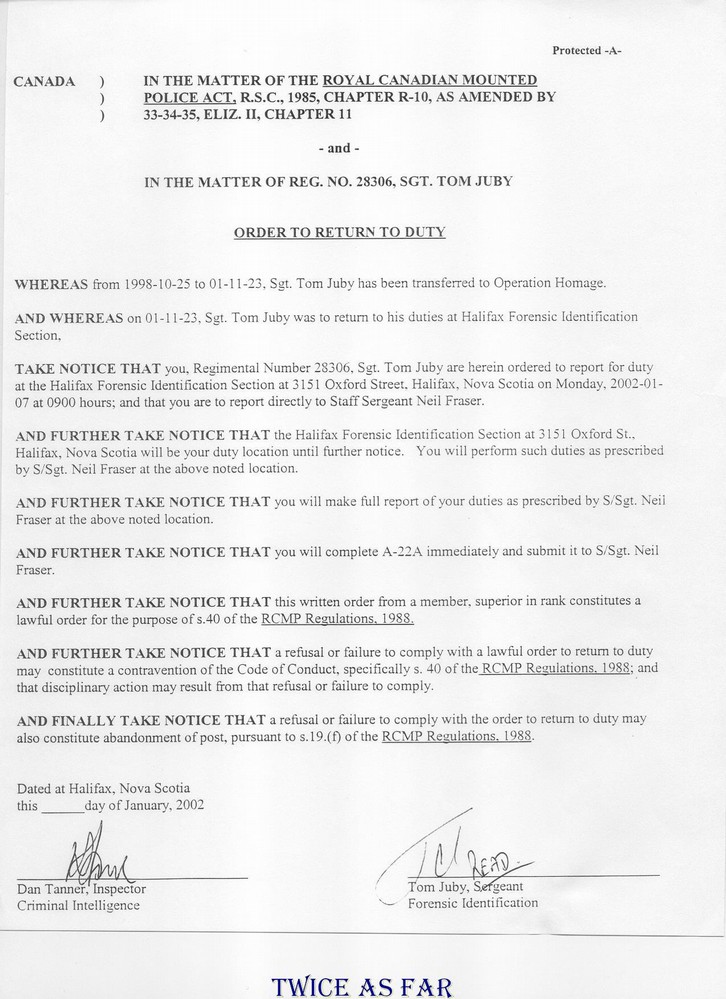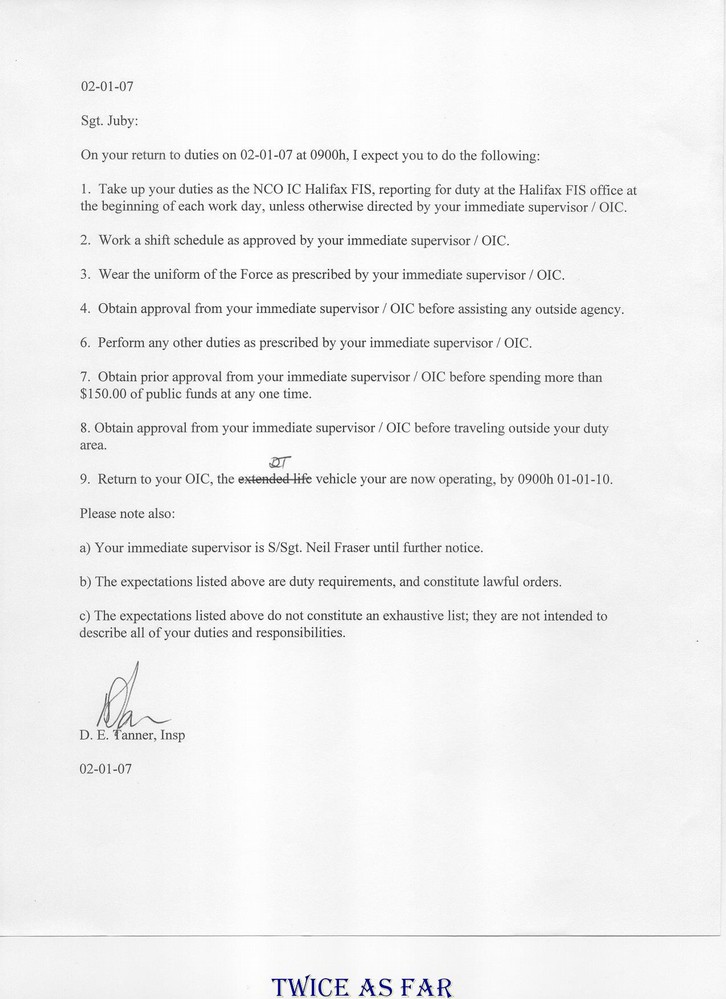 When MacLaughlan took up his position,
he became my immediate supervising officer.
He continued the order.
* * * * * * * * * * * *
TANNER'S ABUSE
The reason for the continuation of the order likely was this memo supplied to him by Tanner.
I had complained to MacLaughlan about Tanner taking forty hours of leave time
when in effect I had only taken off twenty hours,
time that had been owing from the previous FAA trip.
Tanner removed 40 hours from my leave card
when it should have been none.
In this memo, Tanner provides his version of events.
However, this was all a pretext.
Tanner and MacLaughlan had to remove me from the hangar,
and they had to ensure that I had limited contact with any part of the file.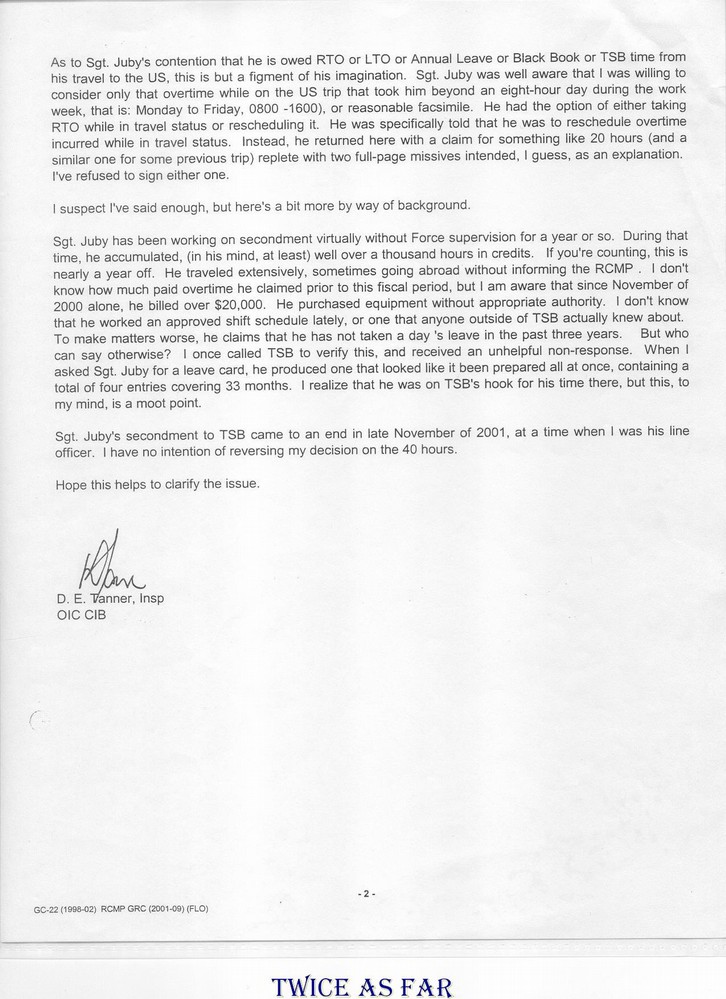 Shown below is my leave card that Tanner felt was 'prepared all at once.'
This was from someone who didn't know what the simple acronym SDO meant,
a term used by every other member of the Force.
Tanner and Lathem
were typical of too many Inspectors that I had worked for over the years.
The good ones were too few and far between.
Most of those good ones soon became disillusioned by the system and retired early.
* * * * * * * * * * * *
CONCLUDING IDENTIFICATION REPORT
CONCLUDING IDENTIFICATION REPORT
On the 6th of March, 2002,
a report was submitted to RCMP management in Halifax.
Superintendent MacLaughlan
was the Support Services Officer,
and as such he was
both Lathem's and my supervising officer.
The report covered the
Identification activities in the
A Hangar.
* * * * * * * * * * * *
THE CONTRIVED INTERNAL INVESTIGATION
THE CONTRIVED INTERNAL INVESTIGATION
This memo was submitted by Lathem to MacLaughlan
after he received a copy of my grievance material.
I had alleged wrongdoings,
so Lathem went on the defensive.
Notice how Lathem claimed that he didn't try to influence my notes,
but for the grievance process,
he readily supplied a copy of the 'change the notes' document.
Later,
both Conlin and Robineau freely stated that
it was perfectly legal to influence what goes into an investigator's notes.
This memo is from MacLaughlan to the
Internal Investigations Section member
who was tasked with investigating Lathem's complaint.
Note the word 'Made.'
It should have read 'Attempted to make.'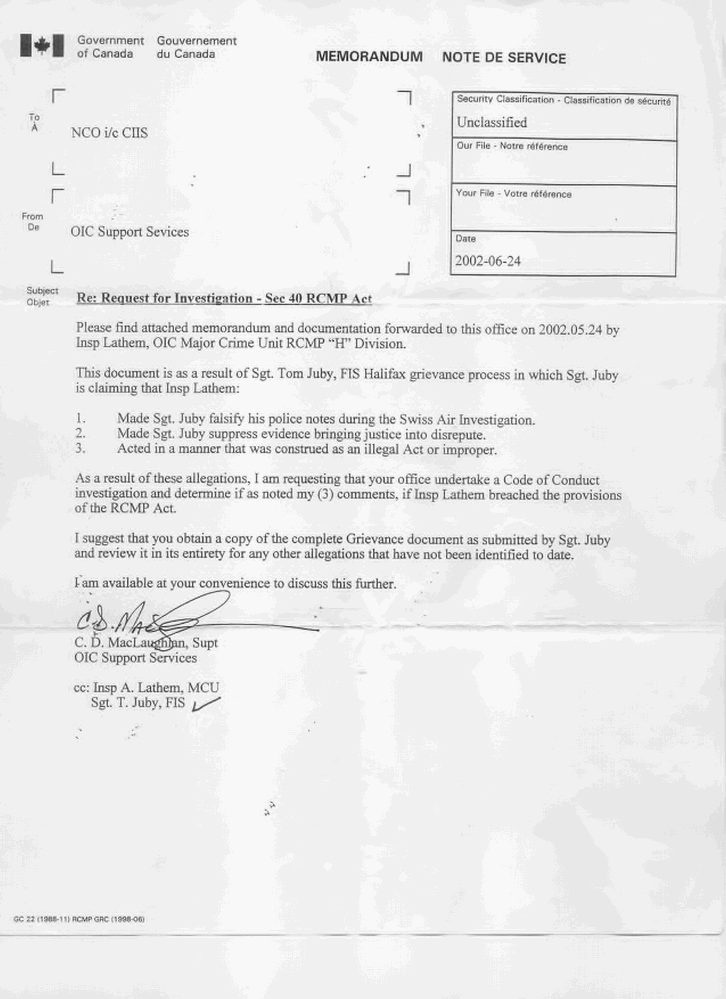 * * * * * * * * * * * *