THE LATHEM / FRASER MEMO
THE INITIAL REQUEST
The following is the memo that Lathem wrote to Fraser
to request a review of all of my notes
that had been turned over to him on the 15th of December, 2000.
A few things are odd about the memo.
First of all,
no normal memo at that time within the Force
started off with the salutation of 'Dear'.
That line is just not put in an internal memo such as this.
Such memos are normally addressed to the senior position title in the office,
not the actual person who holds the position.
It could well have been that someone else in Fraser's office
such as his second in command,
could have received and handled the matter.
Adding the term 'Dear' makes the correspondence a personal matter
and not a professional, impartial request.
It reinforces the idea that it was all a planned and contrived personal action
that no one else in Fraser's office could oversee.
Then to say that I was 'associated with the Swissair investigation'
is certainly an understatement of the facts
and a most unusual way of putting it.
However, to have Gorman,
whom Lathem knew, influenced, and trusted,
conduct an objective review is sheer nepotism.
But of importance,
in the upper right box,
note the date of 2000-12-20.
It is the day after
Lathem's comment about a face to face meeting with Fraser
to discuss the issues.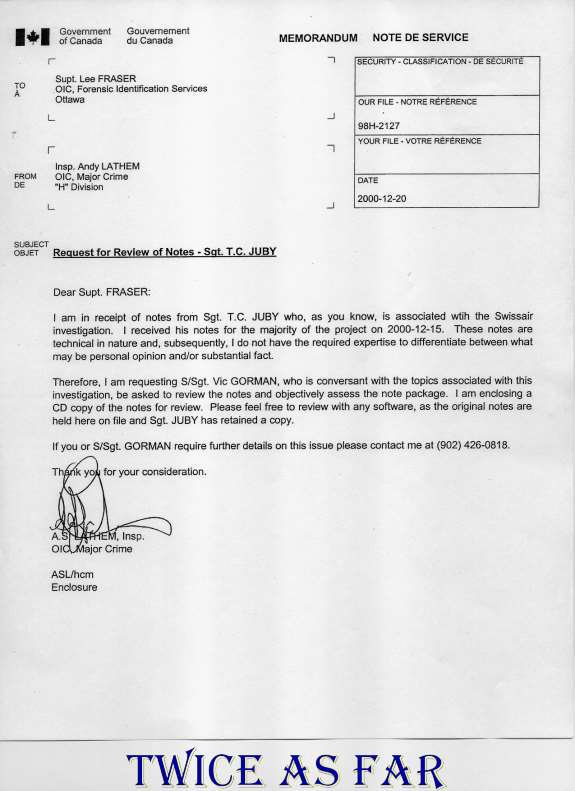 * * * * * * * * * * * *